I feel like I should celebrate fall a little. So how about this next week is all about fall?!
Cool temps come with fall and scarves come with cool weather. I have 3 of the exact same pashmina style scarves. Nick brought them home to me last year from a store he has inventoried. They were a gift with purchase that apparently no one wanted. I decided to figure out something fun to do with them but it was a when I get around to it kind of thing. Well finally a year later I am gettin' around to it. At least around to one.
I hand stamped it using
this post
from
Kelli Murray's blog
as inspiration. I love the way it turned out! I love the rough and uneven look. I eyeballed the placement and I love that it really looks hand stamped.
I apologize for the wrinkles and bad lighting. It was a dark and lazy day today!
I like how it shows the pattern when free hanging.
But I also love when it is all tied up as well!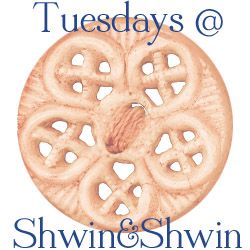 /